The next five years will see the growth of the pet food market globally. It is projected to reach $98 B by 2024. Thanks to the increasing number of pet owners all over the globe, and some trends that have influenced sales (like the humanization of pets and the rise of purchasing power, to name a few). 

While Asia-pacific is deemed to be an emerging market to watch out for, and therefore, an opportunity in which every enterprising mind should pay attention to, established markets like Europe continue to see growth in its "human-like goods and services for pets, healthcare services, including counseling and health insurance which is acting as a major driver behind the growth of this market."[1]

Here are some fast facts and figures about the European pet market industry, presented as an infographic: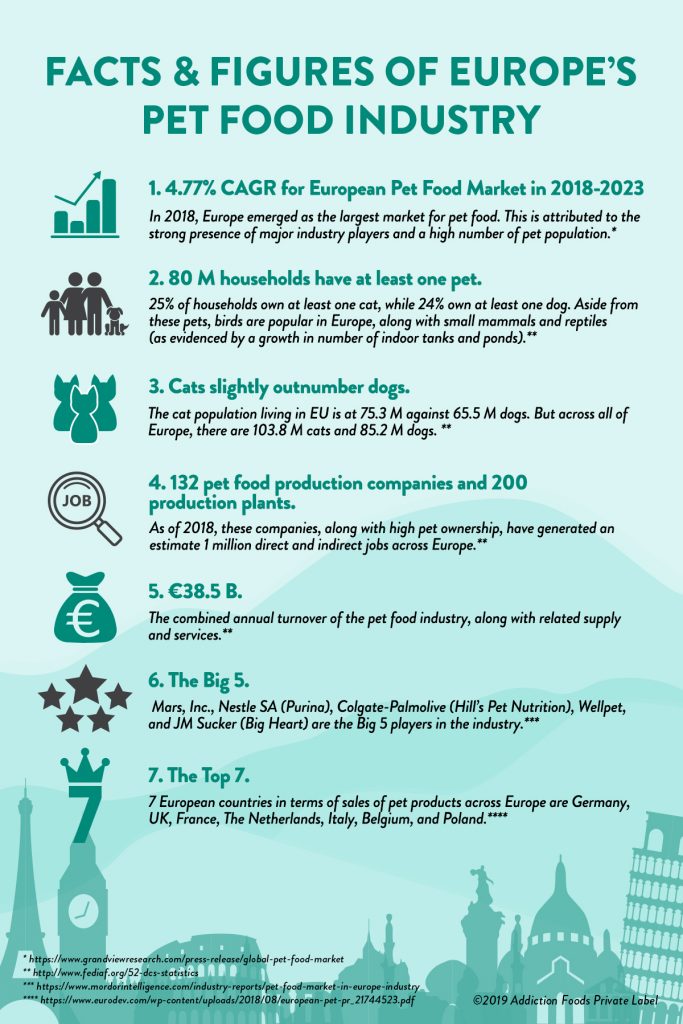 According to Eurodev.com, private label is common in Europe. If you've got that competitive and entrepreneurial spirit, then by all means, why not try Europe for your premium pet food brand? What you'll need is a partner that will help you set it up. A private label partner like Addiction Private Label. 
Addiction Private Label is New Zealand's largest dry food manufacturer and the world's only manufacturer accredited to export all proteins (lamb, beef, chicken, duck, venison, salmon, kangaroo) to China. We can also export to other parts of the world.  
Find out how Addiction Private Label can help you and your brand. Start your journey now! 
———————————————————— 
Footnote: 
[1] https://www.mordorintelligence.com/industry-reports/pet-food-market-in-europe-industry 
For further reading: 
https://www.petfoodprocessing.net/articles/13185-fediaf-pet-food-sales-led-total-industry-revenue-in-2018 
https://www.petfoodindustry.com/articles/7899-global-pet-food-sales-hit-91-billion-in-2018 
https://www.globenewswire.com/news-release/2019/10/08/1926697/0/en/Global-pet-food-market-is-expected-to-continue-witnessing-growth-over-the-next-five-years-and-is-projected-to-reach-98-billion-by-2024.html