Do you notice your customers complaining about an itchy cat, even when it's not flea season and there's not a flea in sight?  Do their cats have dandruff or dry skin? Some cats get extra oily skin from food allergies.
Others develop little pustules on their chins or the base of their tail.  Some cats throw up more often or will have runny stools.  If cats suffer from any of these, it may be a tell-tale sign of food intolerance.
Food Intolerance and Food Allergies
Many cat foods contain chicken, other poultry or seafood.  These are fine proteins, but if fed a diet exclusively of these ingredients, most cats can develop an intolerance.  This is where feeding a novel protein can be helpful.
A novel protein is a protein that most animals haven't been fed before.  Examples of novel proteins may include brushtail, unagi and venison, which usually fall into the novel category for most cats.
QUICK FACT: The brushtail is a marsupial that was brought into New Zealand for the fur trade.  Since it's a non-native species, it didn't have natural predators and in a short period of time began overpopulating and destroying natural forestation.  
Brushtail meat has been found to contain extremely high levels of Omega 3 fatty acids and is very palatable to finicky animals, which makes for a great combination for allergic pets.  
If a cat is suspected to have food allergies, the first thing to do is to put them on a simple diet with only one protein.  While doing the elimination diet, it's important to not feed the cat with any table scraps or treats unless they have the same ingredients as the food.
The idea is to narrow down what could be causing the problem.  So, you might start with New Zealand Venison and Apples or some venison stew.  You would feed this diet exclusively and would pay close attention to the cat's symptoms.  If the symptoms got worse, switch to a new protein.  If the symptoms got better, you'll need to stay on the Venison until everything cleared up.  At that point, you would want to begin adding in other proteins.
It's important to add in more proteins as soon as the cat is feeling/looking normal.  Having a wide variety of proteins builds better digestion and helps prevent future allergies.
The Right Partner to Develop Your Own Mix
Finding the right partner for developing your own brand of hypoallergenic pet nutrition is just as tricky as identifying food allergies and intolerance in cats.
You will need someone with the expertise and the experience in formulating, producing, packing and exporting premium quality pet food to the world's fastest growing markets.
With close to two decades of being a leader in premium pet food nutrition, Addiction Foods Private Label produces the finest-quality dry food and treats under private label. We are proud to call New Zealand home where the highest food safety standards, free-range meats and organic produce combine to offer the ideal pantry of the purest ingredients.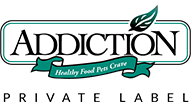 Addiction's private label service is the premier choice for brands pursuing the global marketplace. Whether you are looking to produce dry kibble or indulgent treats for cats and dogs, we are your partner for a complete solution. From ideation to production, storage to exportation, our team of specialists will assist you every step of the way in successfully launching your desired pet food formula.
So the next time your customers come and ask you about intolerance and allergy issues, you'll have better options to share, together with Addiction Foods Private Label.
Find out more about our services
Talk to us about partnership opportunities